Programs
Coaching Zone 6-Week Challenge
Starting or re-starting your health and fitness can be a daunting task, that's why we've done all the planning for you.

To be successful, there are 4 areas of focus:
Training

Nutrition

Mindset

Support
Training
You'll have unlimited access to 20 sessions a week, spread throughout the day to give any schedule the chance to get your daily exercise. We get you to book in your sessions 2 weeks in advance to help with your time management and so our coaches can keep you accountable. All Coaching Zone sessions are run by our highly trained staff to ensure you getting the best
Nutrition
We have our very own app that includes a fully customisable meal planner to suit any taste. Each recipe in the app comes with an ingredient list, cooking instructions and caloric break down.
Mindset
Our expert coaches will make sure you attack every session with the right attitude with the help of our Myzone heart rate monitors. Each Coaching Zone session is matched to Myzone to ensure you are in the right intensity zones to burn fat and build muscle.
Support
On top of having our coaches guiding you though the process, you'll also join a community of like-minded people on a similar path. You'll be given access to private members support groups as well as exclusive discounts to local business partnerships.

This Coaching Zone 6-Week Challenge will equip you with the tools and support you need to not only achieve results, but maintain them too!
What You'll Recieve
Access to the Coaching Zone 6-week challenge nutrition portal

A 6-week meal plan

Personal training sessions

Group support

Access to MYZONE heart rate monitors

Before and after photos and measurements to track your progress

Three consultations before, middle and at the end of your challenge
Welcome to our Begin Program

Getting started at a fitness club can be a daunting experience and here at Loftus Recreation Centre we want to ensure you feel as comfortable as possible. We are here to support you and set you on the path for success to achieve your goals. Our qualified and experienced Fitness Professionals will be here to help you stay motivated, provide advice, and regularly check-in so you are gaining the most from your Health, Fitness and Wellbeing journey with us.

Begin is completely FREE to full access members

Best value services for our new and existing full access members

Ongoing support to achieve your goals and see results sooner

Look and feel your best with Begin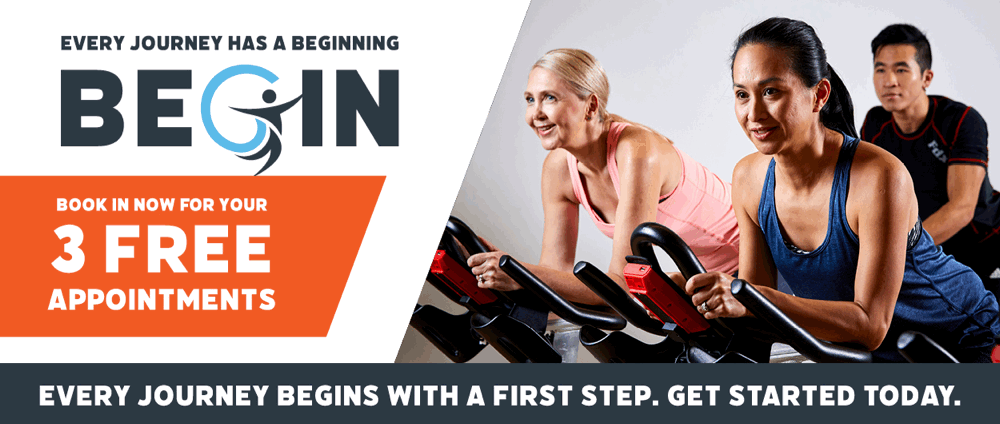 Your First 30 Days
In your first 30 days you get three complimentary appointments.
Appointment 1 - Beginning
From the Beginning we will take the time to understand your goals, your motivations and your reasons to change. We will build a baseline to measure and map our progress and develop a personalised gym program desiggned and demonstrated to you.
Appointment 2 - Check-In
Your Check-In is the appointment which will take place approximately two weeks after your Beginning appointment. Here, we will focus on how you are finding your personalised program and where we can make any changes.
Appointment 3 - Benefits
In your third appointment, we will re-visit your Beginning baseline markers and review how we have progressed in the initial 30 days and the Benefits you have gained. This is a great time to keep things going, or add some variety into your program.
Seniors Exercise Program
How Do I Get Started?
To join the Loftus Seniors Exercise Program, you will need to complete an assessment with one of our health professionals. In this pre-exercise appraisal we can discuss your goals, any injuries and anything specific to cater to within the program. Once given the all-clear, you can commence attending classes!
Important Dates and Times
Classes are held Tuesday & Thursday mornings from 10:30am to 11:30am
What do I need to bring?
For every class you need to bring a workout towel and a water bottle. You must also wear closed-in sneakers/shoes and comfortable stretchy/loose clothing.
Signing In and Prices
For each class, you will need to sign in at the gym reception to participate. We have a special discounted casual visit rate for seniors, as well as discounted membership rates.
Classes are free with all Loftus memberships. If you are coming in twice a week, we do recommend you take up a membership with Loftus, as you can save yourself money while also coming any day you like.
Just ask us how, next time you're in.
Changerooms, Showers & Lockers
We have two sets of change rooms containing showers on the lower level of the centre. One alongside the gymnastics centre, and one alongside the indoor soccer courts. Soap dispensers provided. Lockers are provided, just ask the staff how.
Take Charge!
Community-Based Exercise for Youths and Adults Living with Mental Illness
Research has confirmed exercise helps people manage and work toward recovery from mental illness. Mental illness has emerged as a national issue, and in many places, local communities are working to help people living with mental illness through Take Charge!

Take Charge! is a free referral-based program that gives access and support to engage in exercise here at Loftus for 60 days. This includes 5 appointments with a Club Coach to develop a Personalised Exercise Program to ensure the Health Club is as comfortable as possible. Ongoing access to the Health Club can be negotiated on a co-contribution basis dependant on a persons financial situation.

Referrals can be sourced by your preferred Health Professional, such as your GP or Counselor.
For more information or help in accessing the Take Charge! Program, you can contact our Inclusion Coordinator Jess on 92276526 or loftusprograms@belgravialeisure.com.au
Fitness Results are Guaranteed
The program offers members of our health club dedicated ongoing support from our fitness team.